Edwards Solar Hot Water Installation Specialists in Sydney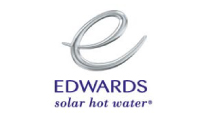 One Hour Plumbing are Authorized Dealers for Edwards Solar Hot Water Systems in Sydney
Are you looking to replace your existing electric or gas hot water system with a solar hot water system? One Hour Plumbing installs Edwards solar hot water systems in homes all over Sydney. We offer quick and reliable services that few others in the industry can match.
Here's what you can expect when you call on us to install an Edwards solar hot water installation in Sydney:
1. SAME DAY INSPECTION OF YOUR HOME:
If you're serious about installing an Edwards solar heater, but don't know where to start then give us a call. As professionals in hot water systems in Sydney, we can provide solar hot water installation experts that will inspect your home the same day. You will be provided with a written quote for installing a new Edwards solar heater within one working day.
2. HELPING YOU CHOOSE THE RIGHT EDWARDS SOLAR HOT WATER SYSTEM:
Edwards solar hot water systems are made of weatherproof COLORBOND® stainless steel. They come in a range of 7 modern COLORBOND® steel colours with their roof mounted range.
The climate, water quality and water usage also vary across different parts of the state. One Hour Plumbing solar hot water specialists along with a team of 24 hour plumbers in Sydney will help you choose a system that's right for the size of your house and the requirements of your family and get it installed.
3. INDUSTRY LEADING WARRANTIES:
We'll help you choose Edwards replacement systems with the best warranties. Combined with our written workmanship warranty you will have complete peace-of-mind that your investment is fully protected.
4. SLASH POWER BILLS:
If you've moved house or are planning to construct a new one, you may want to consider installing an Edwards solar hot water system. An electric hot water system generally accounts for about 30% of your total household energy usage. Installing an Edwards solar water heater will save you up to 80% of the energy used by your existing electric hot water unit. That's a substantial savings in your energy bills without compromising on your hot water supply. Whatever your hot water needs, One Hour Plumbing has the answer. A single call is all it takes.
5. LOYALTY DISCOUNTS:
Used our services before? You may be eligible for a special discount. Why not call us and save?
6. INDUSTRY STANDARD SERVICE GUARANTEE:
Being one of the best emergency plumbers in Sydney, One Hour Plumbing is committed to providing the highest level of customer and technical service. Our service guarantee compares with the best in the industry. We stake our reputation on our service standards. Ask any of our clients and they will happily agree.
Our hot water repair and installation technicians are available all over Sydney to serve you. Give One Hour Plumbing a call today and get hot water right on tap.
For more details on Edwards and their range of products, please click HERE.
Save